Immigrant visas are a big issue now
So much has been debated about recently regarding immigrant status in the U.S. It has been a very polarizing topic for a considerable number of Americans on both sides of the issue. Most of this conversation has centered around poor foreign citizens attempting to gain entry into the U.S. and getting their residency status here. Little has been written about legal means of obtaining residency visas through business means. All aboveboard and legitimate, it's one means of obtaining U.S. citizenship while making a significant impact in the American economy.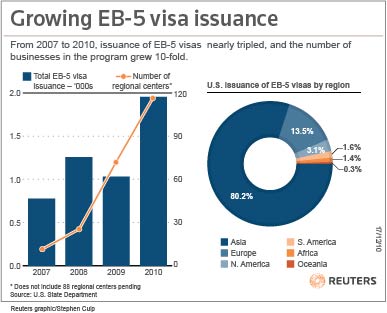 The EB-5 visa
Immigrants that can make significant investments here in the U.S., foreign investors that can make significant contributions to the well-being of industry and the American workforce, can apply to get an EB-5 visa. Those who apply and get accepted will be granted conditional permanent residence, valid for two years.
Minimum requirements for EB-5 visa applications
There are a certain numbers of restrictions that foreign nationals must follow if they wish to apply for an EB-5 visa.
Individuals must invest at least $1 million here in the U.S., or at least $500 thousand in a Targeted Employment Area (TEA). A TEA, as defined by the USCIS, is "an area which, at the time of investment, is a rural area (not within either a metropolitan statistical area (MPA) or the outer boundary of any city or town having a population of 20,000 or more) OR an area within an MSA or the outer boundary of city or town having a population of 20,000 or more which has experienced unemployment of at least 150% of the national average rate."
There is no centralized list of TEAs in the U.S., though state agencies in the states of Florida, California, and Washington maintain lists of TEAs of their own.
Petitioners must create jobs
Petitioners for the EB-5 VISA program must also create or preserve at least ten jobs for U.S. workers, which exclude the investor and the investor's immediate family.
Foreign investors can look to receive assistance by way of EB-5 Regional Centers, a third-party managed entity which takes on responsibility of creating the jobs the investor needs to help fill their quota.
What happens when the petitioner's application is approved?
After having been in business in the U.S., and within 90 days of when their conditional permanent residence visa expires, they must submit documentation that they have fulfilled requirements they agreed upon. This includes proof of the full investment, as well as the ten jobs that have been created, or if not, will be created in a reasonable amount of time.
EB-5 Regional Centers
Foreign investors can look to EB-5 Regional Centers for assistance. Though not endorsed or guaranteed, the USCIS maintains a list of approved entities that can assist with funding.
Where EB-5 Funding has helped
EB-5 Funding has greatly assisted in helping to assist in rebuilding the Las Vegas economy. Some enterprises that have benefited from this funding have included casinos. New casino projects have included the Downtown Grand, SLS (formerly the Sahara Hotel), Dynasty Hotel Casino, Clarion Hotel, Lucky Dragon Hotel and Casino, and Resorts World Las Vegas.